Regular price
Sale price
$29.99
Unit price
per
Sale
Sold out
30 CAPSULES | 7 DAY SUPPLY
Rapid immune support*
Designed to be taken at the first sign of seasonal discomfort1-8*
Clinically proven formula*
Supports the healthy function of the innate immune system4*
With Andrographis, proprietary Spirulina extract, Humic acid and Zinc
View full details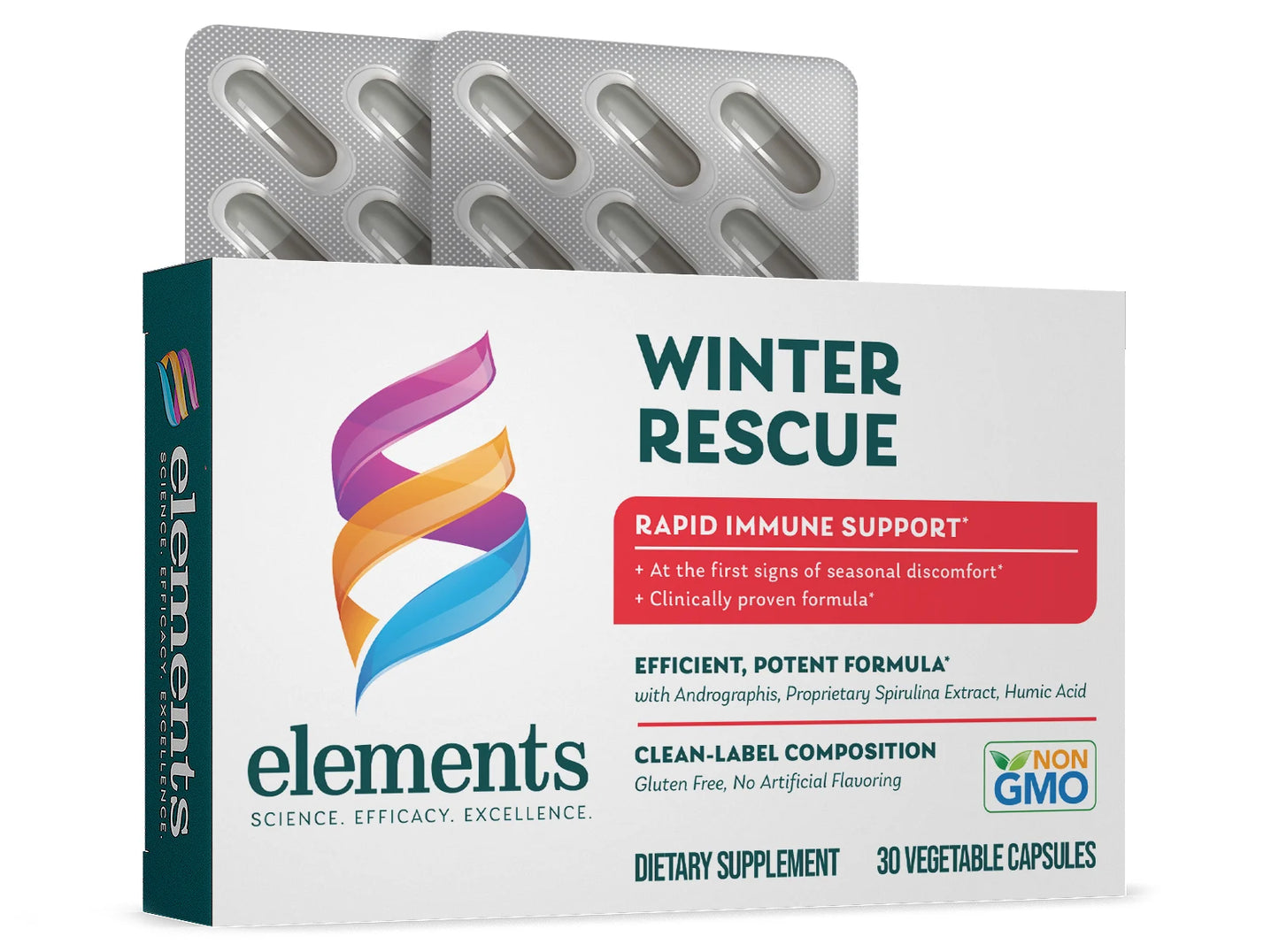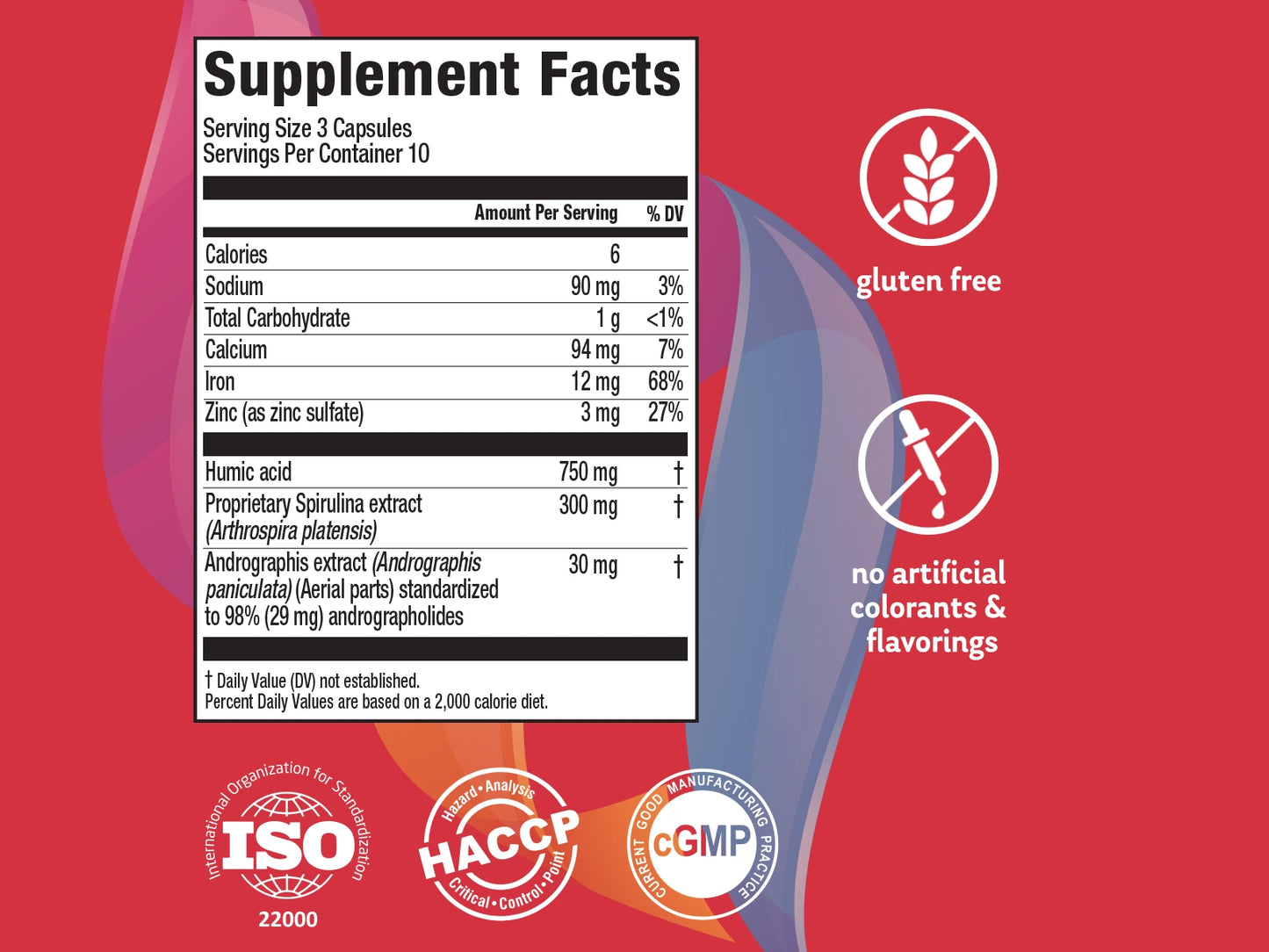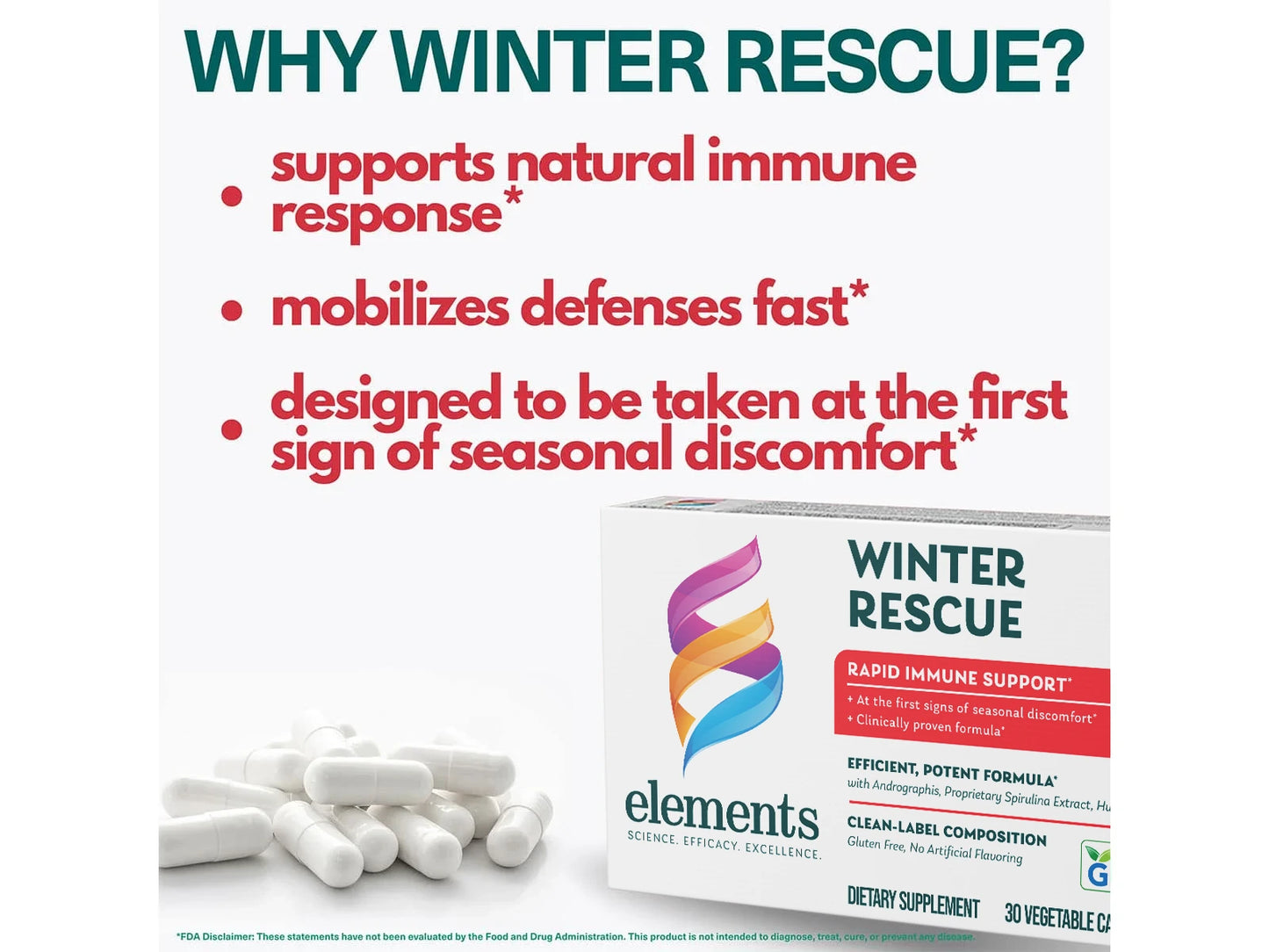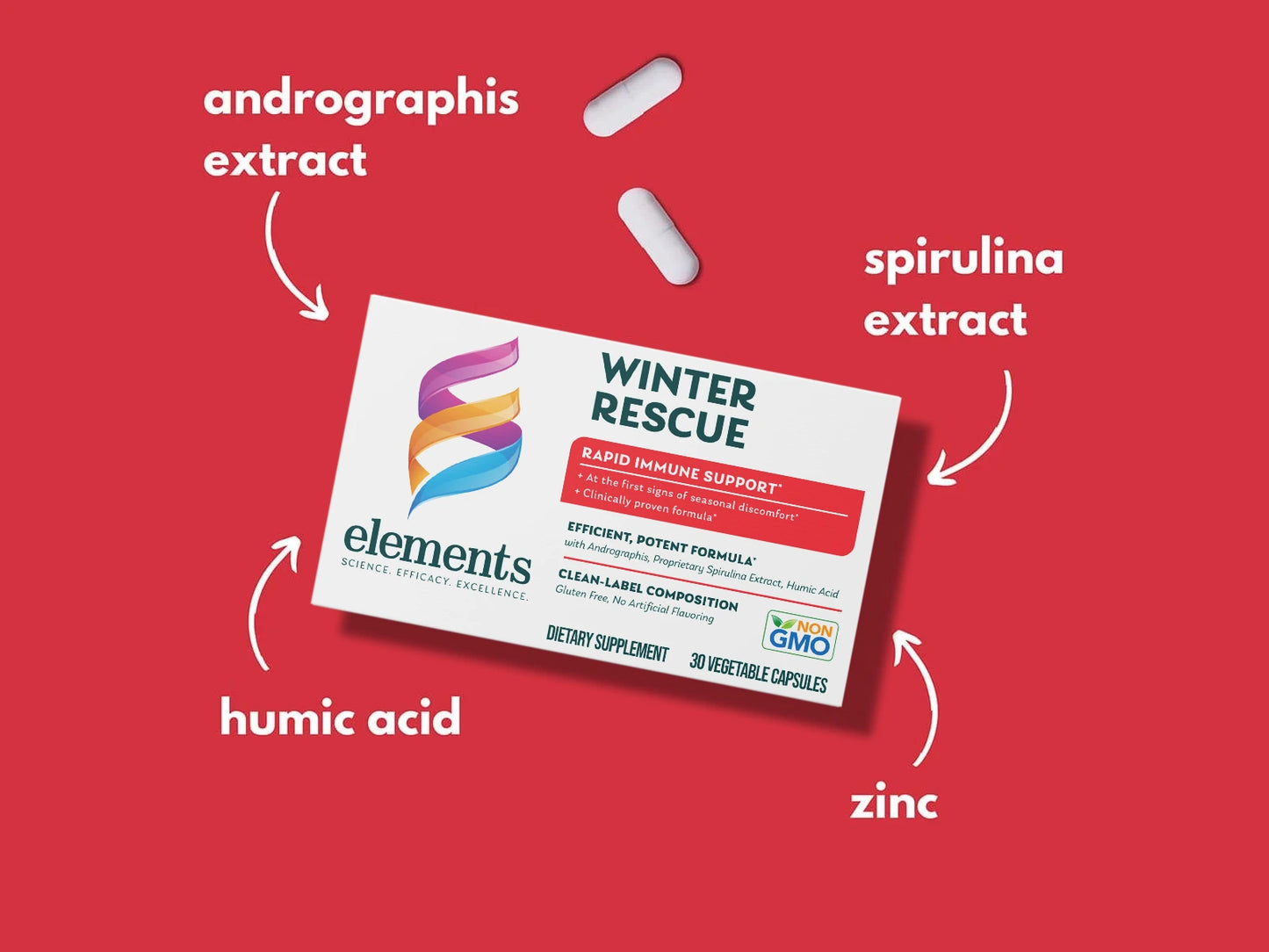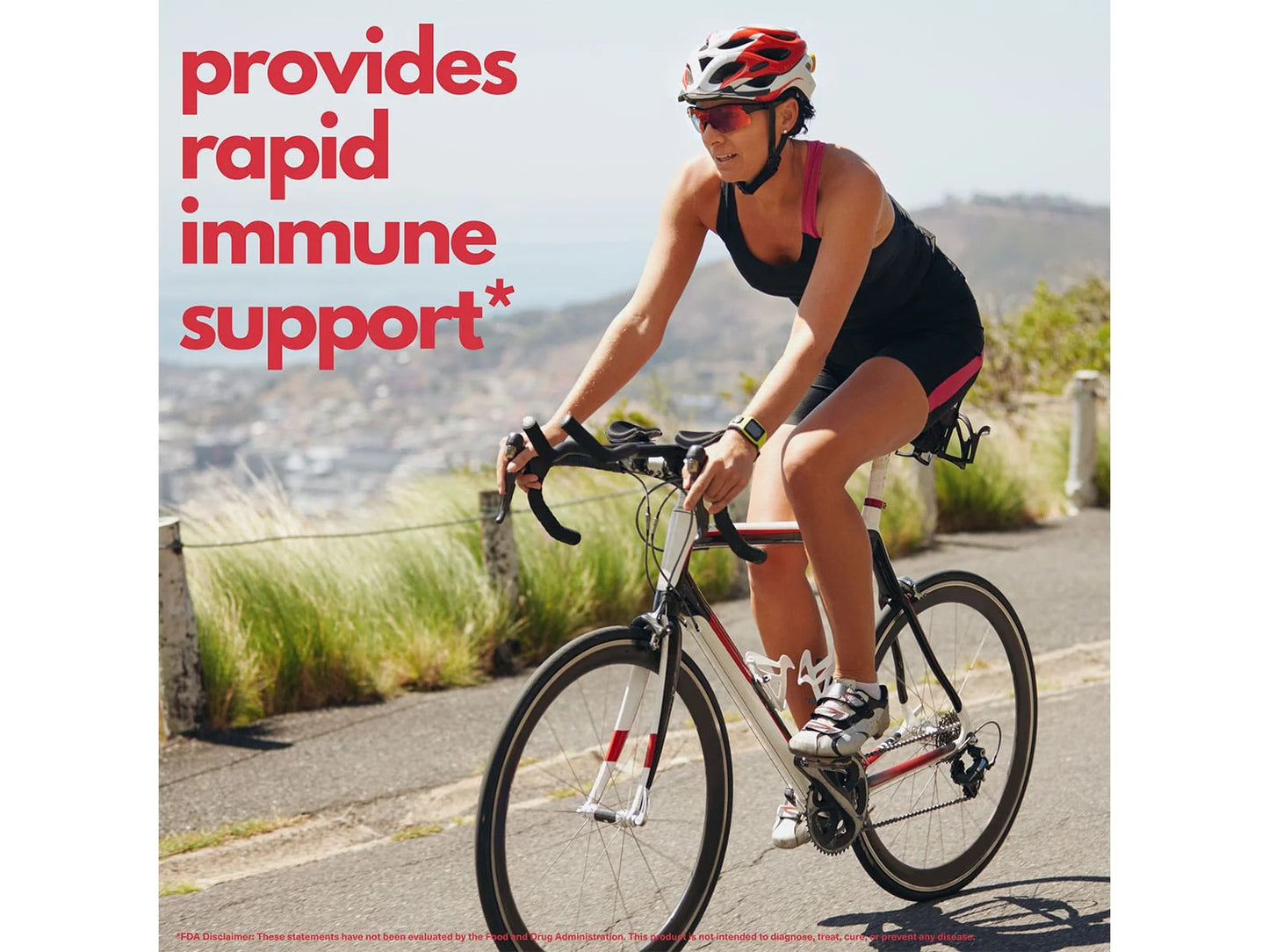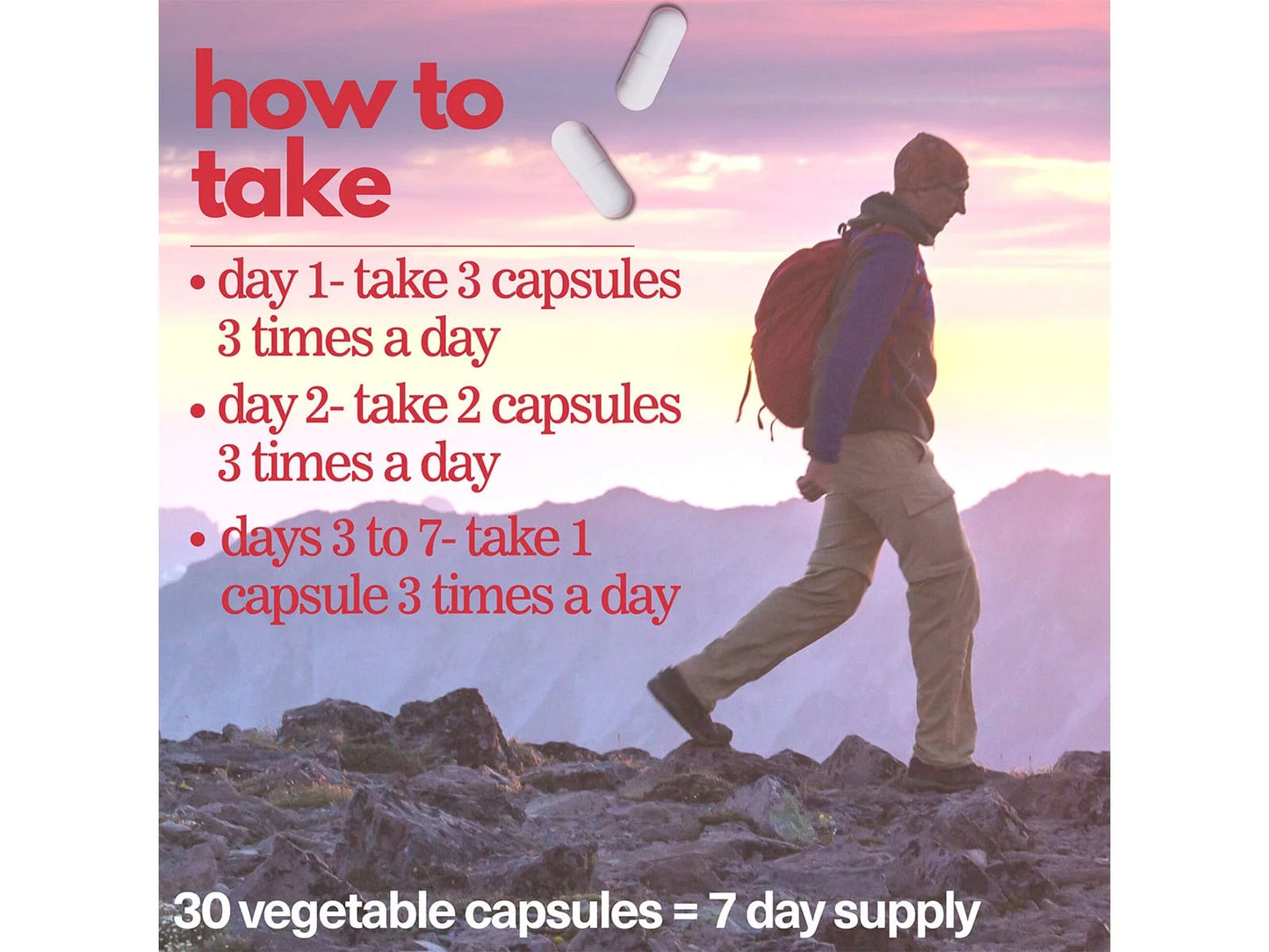 Day 1 - 3 capsules 3 times daily
Day 2 - 2 capsules 3 times daily
Day 3 to 7 - 1 capsule 3 times daily
For best results, begin taking WINTER RESCUE at the first signs of seasonal discomfort.* If you start taking WINTER RESCUE in the afternoon or evening on Day 1, take the entire recommended daily dose of 9 capsules by the end of that day.
This supplement can change the color of the stool from dark to black, due to the black color of humic acid. Consult a physician prior to use if you are pregnant' nursing' taking medication or if you have a medical condition.
KEEP OUT OF REACH OF CHILDREN.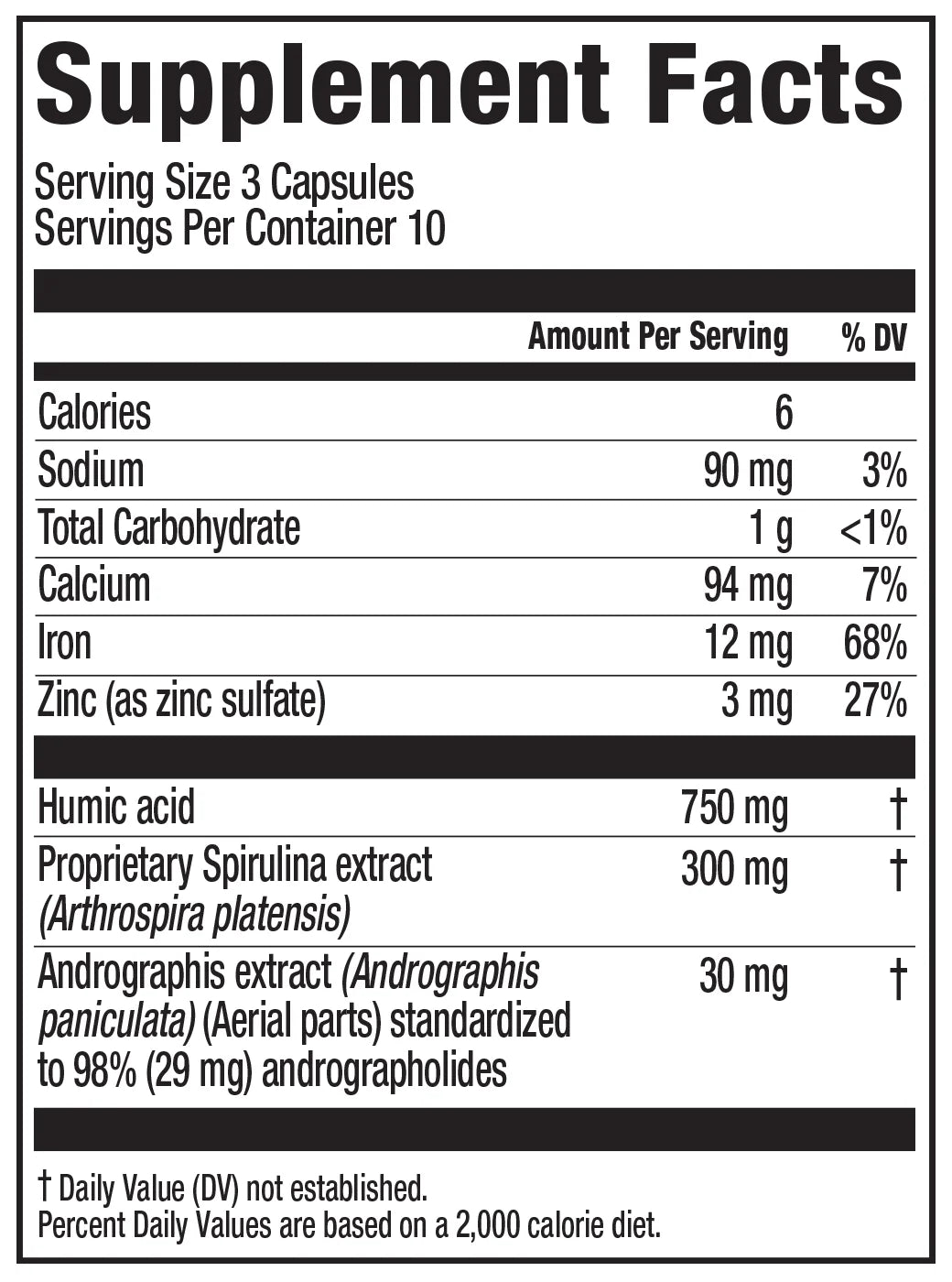 Other Ingredients: Dicalcium phosphate, corn starch, magnesium stearate (vegetable), vegetable capsule (hypromellose, titanium dioxide (color)).
Rapid Immune Support Formula
Winter Rescue is an effective integrative health promoter, providing powerful support to the health of the immune system and its rapid effect on seasonal discomfort1,2,4-8.* Designed to be taken at the first sign of seasonal discomfort, this powerful formula contains clinically researched ingredients that support the body's natural immune system response.*
HUMIC ACID

Humic acid is a substance derived from natural compounds found in humus soil. The molecules are obtained from ecologically clean sources. Preliminary research suggests that Humic acid may support immune function, and is thought to provide support for overall health and wellness.*

ANDROGRAPHIS

Andrographis is an herb traditionally used in China, India, and Southeast Asia. Recent scientific research indicates that the constituents in Andrographis, known as andrographolides, may help support a healthy and balanced immune system response.* Andrographis support the body's natural ability to maintain optimum well-being, especially during seasonal change.*

SPIRULINA EXTRACT

Spirulina extract is obtained using a proprietary process to achieve higher concentration of specific immune helping substances. It is rich in phycobiliproteins, such as Phycocyanin and Allophycocyanin, which studies suggest have potent immune system boosting properties.*

ZINC

Zinc is an essential mineral that plays vital role in our body.* The role of Zinc is crucial for the normal growth, physical development, nutrient metabolism, cell function and division, DNA synthesis and protection of cells from oxidative stress. It also contributes to the normal function of the prostate.*
Saxena RC, Singh R, Kumar P, et al. Phytomedicine. 2010;17(3-4):178-185. doi:10.1016/j.phymed.2009.12.001
Poolsup N, Suthisisang C, Prathanturarug S, Asawamekin A, Chanchareon U. J Clin Pharm Ther. 2004;29(1):37-45.
Hu X-Y, Wu R-H, Logue M, et al. PLoS One. 2017;12(8):e0181780. doi:10.1371/journal.pone.0181780
EFSA Panel on Dietetic Products N and A (NDA). EFSA J. 2014;12(1924):1-9. doi:10.2903/j.efsa.2014.3653
Jankowski A, Nienartowicz B, Polanska B, Lewandowicz-Uszynska A. Arch Immunol Ther Exp (Warsz). 1993;41(1):95-97.
Gabrielian ES, Shukarian AK, Goukasova GI, et al. Phytomedicine. 2002;9(7):589-597. doi:10.1078/094471102321616391
Shih S-R, Tsai K-N, Li Y-S, Chueh C-C, Chan E-C. J Med Virol. 2003;70(1):119-125. doi:10.1002/jmv.10363
Caceres DD, Hancke JL, Burgos RA, Wikman GK. Phytomedicine. 1997;4(2):101-104. doi:10.1016/S0944-7113(97)80051-7
Klöcking R, Helbig B. In: Biopolymers Online. Wiley-VCH Verlag GmbH & Co. KGaA; 2005. doi:10.1002/3527600035.bpol1013
Panossian A, Davtyan T, Gukassyan N, et al. Phytomedicine. 2002;9(7):598-605. doi:10.1078/094471102321616409
Chen Y-H, Chang G-K, Kuo S-M, et al. Sci Rep. 2016;6:24253. doi:10.1038/srep24253
Rosa Sanmiguel P, Iang Rondón B. Rev MVZ Cordoba. 2016;21(1):5198-5210. doi:10.21897/rmvz.30
Abdel-wahab AM, El-refaee AME, Ammar AA. Egypt J Aquac. 2012;2(1):83-91.
Swidsinski A, Dörffel Y, Loening-Baucke V, et al. World J Gastroenterol. 2017;23(5):885-890. doi:10.3748/wjg.v23.i5.885
de Melo BAG, Motta FL, Santana MHA. Mater Sci Eng C. 2016;62:967-974. doi:https://doi.org/10.1016/j.msec.2015.12.001
Coon JT, Ernst E. Planta Med. 2004;70(4):293-298. doi:10.1055/s-2004-818938
Wang W, Wang J, Dong S, et al. Acta Pharmacol Sin. 2010;31(2):191-201. doi:10.1038/aps.2009.205
Samy RP, Thwin MM, Gopalakrishnakone P. Nat Prod Commun. 2007;2(5):1934578X0700200519. doi:10.1177/1934578X0700200519
Hirahashi T, Matsumoto M, Hazeki K, Saeki Y, Ui M, Seya T. Int Immunopharmacol. 2002;2(4):423-434. https://pdfs.semanticscholar.org/2909/2d508973225414e7c7d4af465bbb0f603d38.pdf. Accessed April 16, 2018.
Nielsen CH, Balachandran P, Christensen O, et al. Planta Med. 2010;76(16):1802-1808. doi:10.1055/s-0030-1250043
Balachandran P, Pugh ND, Ma G, Pasco DS. Int Immunopharmacol. 2006;6(12):1808-1814. doi:10.1016/j.intimp.2006.08.001
Hayashi K, Hayashi T, Kojima I. AIDS Res Hum Retroviruses. 1996;12(15):1463-1471.
EFSA Panel on Dietetic Products N and A (NDA). EFSA J. 2009;7(9):1229-n/a. doi:10.2903/j.efsa.2009.1229
Yu M, Lee W-W, Tomar D, et al. J Exp Med. 2011;208(4):775-785. doi:10.1084/jem.20100031
Hojyo S, Fukada T. J Immunol Res. 2016;2016:6762343. doi:10.1155/2016/6762343
* These statements have not been evaluated by the Food and Drug Administration. This product is not intended to diagnose, treat, cure or prevent any disease.
What Our Customers Are Saying
Clean Label Composition
Our labels are clean, transparent, and exceed industry requirements.
Gluten Free

No Artificial Coloring& Flavoring

Science Backed