Regular price
Sale price
$29.99
Unit price
per
Sale
Sold out
60 CAPSULES | 30 DAY SUPPLY
Advanced prostate support*
Supports healthy urinary flow and function*
Maintains a healthy male hormone balance*
Supports healthy ageing of the prostate*5,19,31
Advanced clinically studied ingredients – Saw palmetto extract, Pygeum africanum extract, Nettle root extract, Lycopene
View full details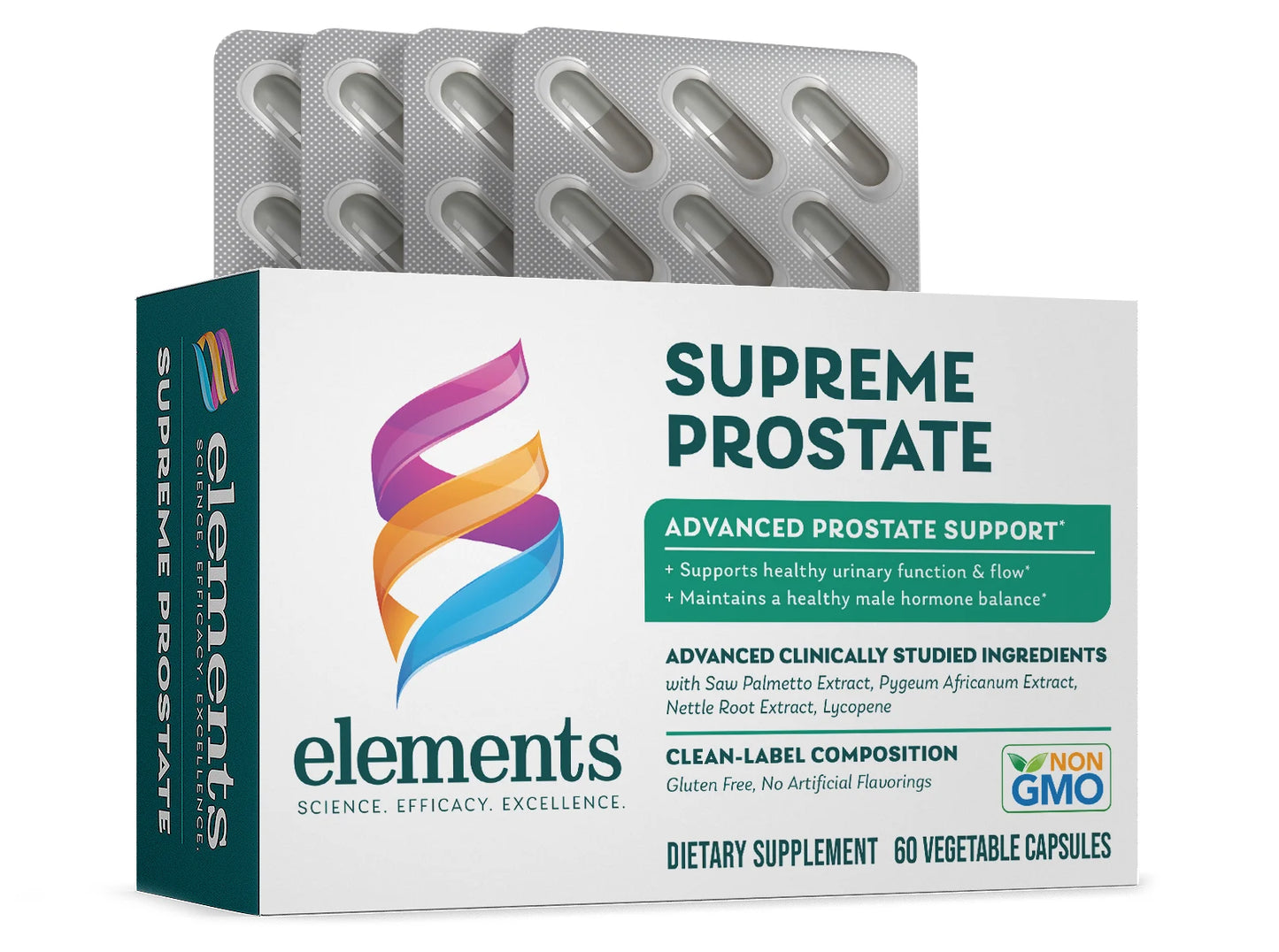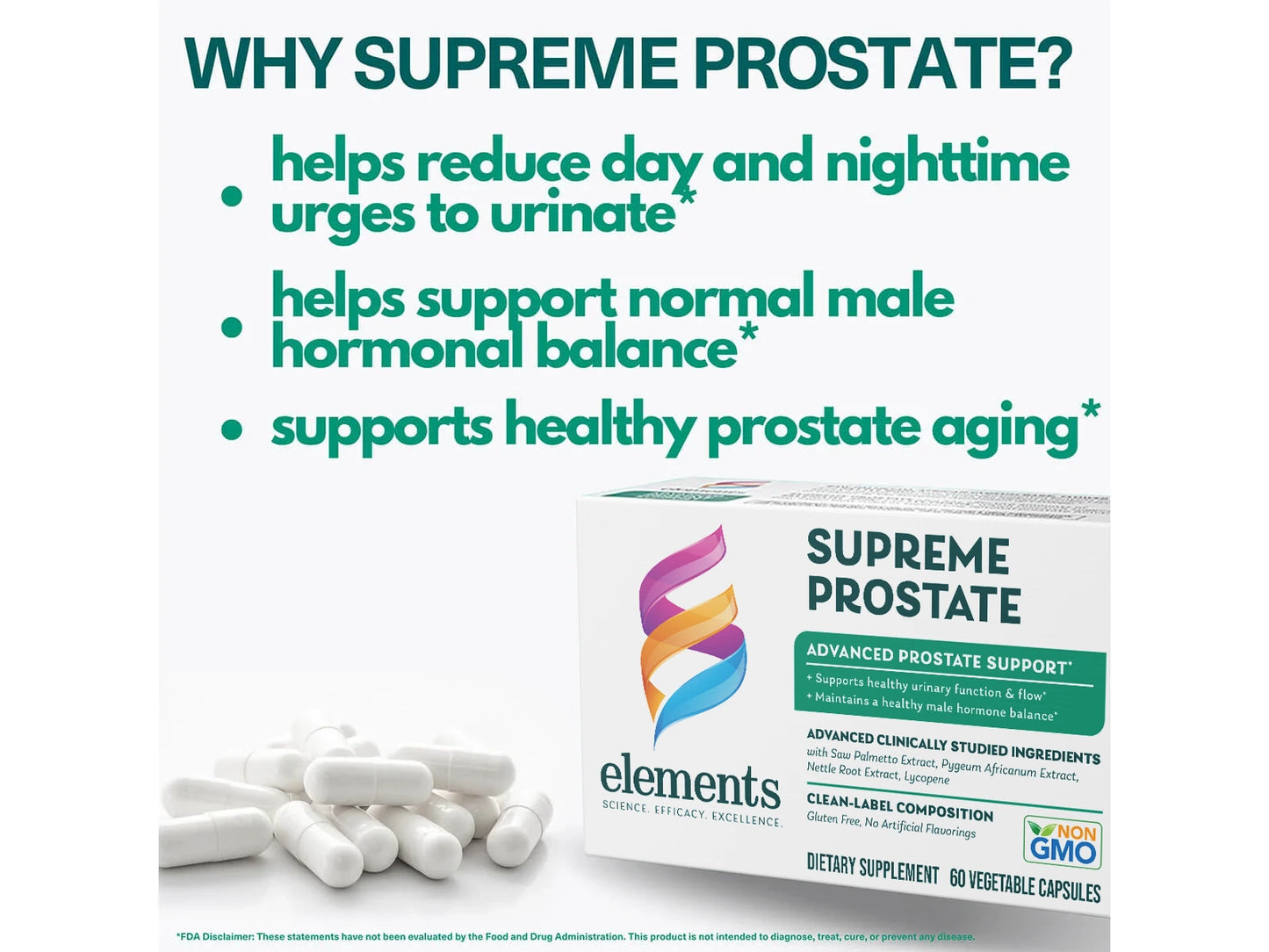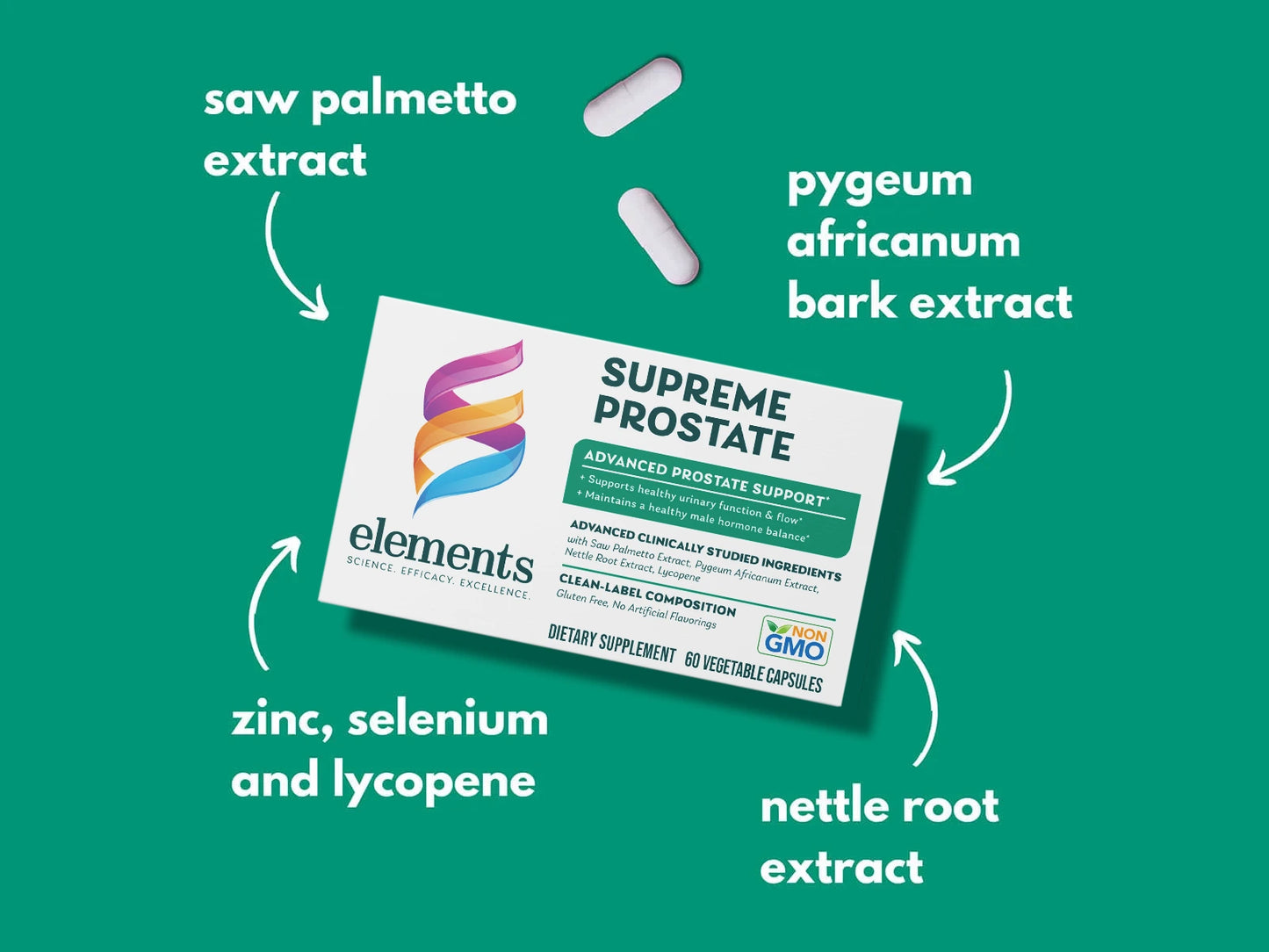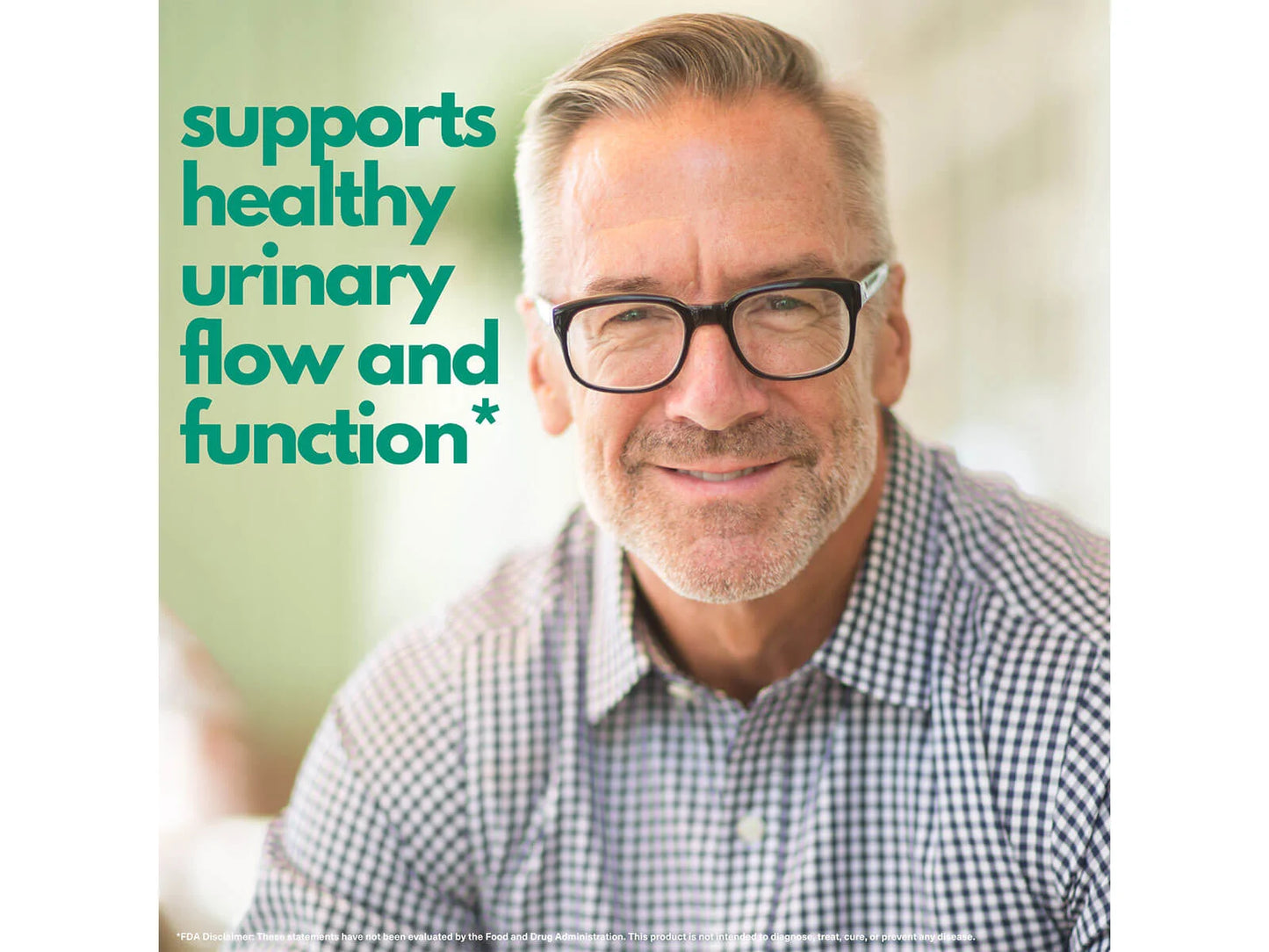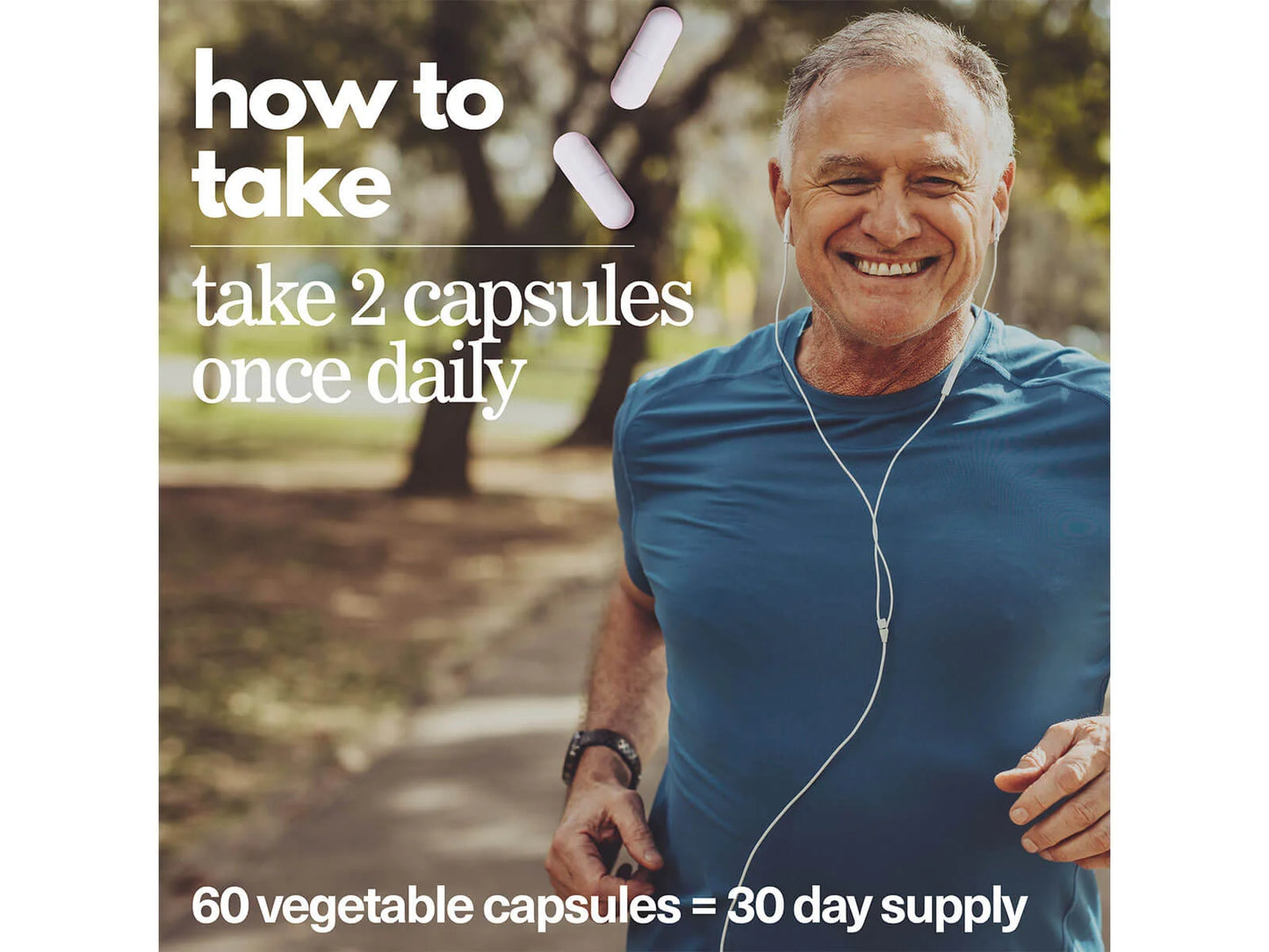 Take 2 capsules once daily, in the evening after a meal.
Consult a physician prior to use if you are pregnant or nursing, taking medication, or if you have a medical condition.
KEEP OUT OF REACH OF CHILDREN.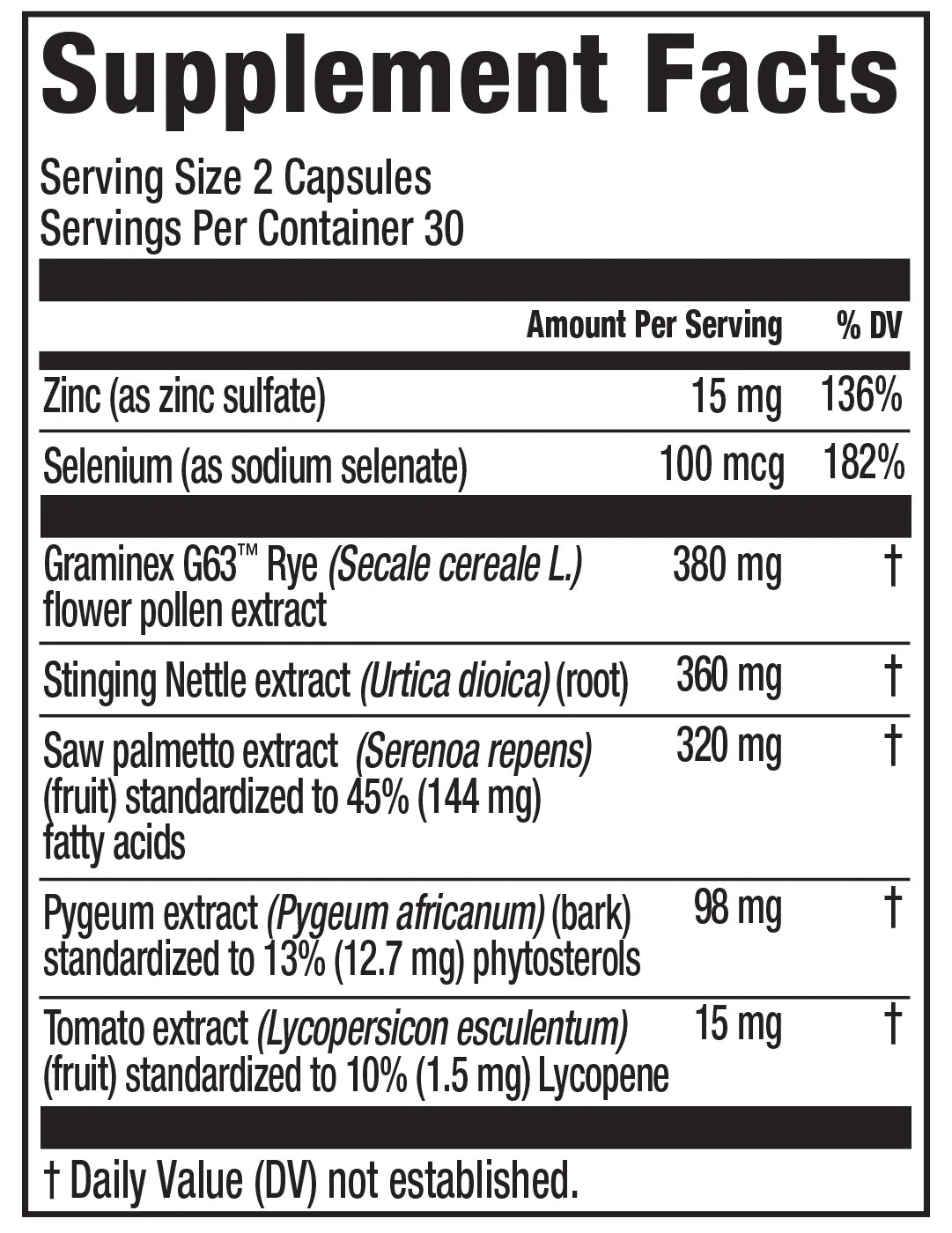 Other Ingredients: Magnesium stearate (vegetable), corn starch, vegetable capsule (hypromellose, titanium dioxide (color)).
Advanced Prostate Formula
Supreme Prostate contains the most well-researched herbs and minerals, in their best proven doses, to provide a comprehensive help for the prostate health during ageing1-10.* Supreme Prostate is formulated with herbs which help prostate during normal ageing in men16,18,20,22,24-27.* The minerals Zinc and Selenium play important role in normal prostate function and protect the gland from the oxidative stress of the environment18,20.*
SAW PALMETTO

Saw palmetto is a palm tree native to the southeastern United States also know with its latin name, Serenoa repens. Studies indicate it helps support healthy urinary flow and prostate function of men.*

PYGEUM AFRICANUM BARK

Pygeum africanum bark is an extract made from the bark of the African plum tree. Pygeum africanum is one of the most researched herbs supporting prostate, UT and kidney health.*

FLOWER POLLEN

Flower pollen from rye, also known as Secale cereale L., is commonly used by men for its beneficial effect on the prostate health.* Flower pollen extract is supported by a large number of clinical studies, which documented its efficacy in various UT applications including prostate and bladder health.*

NETTLE ROOT

Nettle root has been used since the days of ancient Egyptians and Romans, because of its beneficial properties on men's health.* Known under the scientific name Urtica dioica, the plant is rich in vitamins, amino acids, polyphenols, minerals, fats, which act as an antioxidant inside your body.*

SELENIUM

Selenium is an essential mineral which we can obtain through our diet. Small amounts of Selenium are required to support our body's needs.* As a strong antioxidant, Selenium helps reduce the quantity of free radicals and maintain the normal function of the immune system and prostate health.*

ZINC

Zinc is an essential mineral that plays vital role in our body.* The role of Zinc is crucial for the normal growth, physical development, nutrient metabolism, cell function and division, DNA synthesis and protection of cells from oxidative stress. It also contributes to the normal function of the prostate.*

LYCOPENE

Lycopene is a naturally occurring carotenoid, known for its strong antioxidant properties.* It helps reduce the oxidative stress in your body and support normal immune system function.* Lycopene is found in tomatoes, watermelons, red oranges, pink grapefruits, apricots, rosehips, and guavas. Clinical studies reported lycopene may aid the maintenance of the healthy prostate.*
Wilt T, Mac Donald R, Ishani A, Rutks I, Stark G. Cochrane database Syst Rev. 2000;(2):CD001042. doi:10.1002/14651858.CD001042
Ishani A, MacDonald R, Nelson D, Rutks I, Wilt TJ. Am J Med. 2000;109(8):654-664.
Wilt TJ, Ishani A, Stark G, MacDonald R, Lau J, Mulrow C. JAMA. 1998;280(18):1604-1609. doi:10.1001/jama.280.18.1604
Men C, Wang M, Aiyireti M, Cui Y. African J Tradit Complement Altern Med. 2016;13:143. doi:10.4314/ajtcam.v13i2.17
Schwarz S, Obermuller-Jevic UC, Hellmis E, Koch W, Jacobi G, Biesalski H-K. J Nutr. 2008;138(1):49-53.
Buck AC, Cox R, Rees RW, Ebeling L, John A. Br J Urol. 1990;66(4):398-404.
MacDonald R, Ishani A, Rutks I, Wilt TJ. BJU Int. 2000;85(7):836-841.
Latil A, Petrissans M-T, Rouquet J, Robert G, de la Taille A. Prostate. 2015;75(16):1857-1867. doi:10.1002/pros.23059
Carraro JC, Raynaud JP, Koch G, et al. Prostate. 1996;29(4):231-232. doi:10.1002/(SICI)1097-0045(199610)29:4<231::AID-PROS4>3.0.CO;2-E
Safarinejad MR. J Herb Pharmacother. 2005;5(4):1-11.
Breza J, Dzurny O, Borowka A, et al. Curr Med Res Opin. 1998;14(3):127-139. doi:10.1185/03007999809113352
Andro M-C, Riffaud J-P. Curr Ther Res. 2016;56(8):796-817. doi:10.1016/0011-393X(95)85063-5
Yasumoto R, Kawanishi H, Tsujino T, et al. Clin Ther. 1995;17(1):82-87.
Becker H EL. Urologe. 1988;28:301-306.
Dutkiewicz S. Int Urol Nephrol. 1996;28(1). doi:10.1007/BF02550137
Biró-Sándor Z. Vol 44.; 2012.
Hryb DJ, Khan MS, Romas NA, Rosner W. Planta Med. 1995;61(1):31-32. doi:10.1055/s-2006-957993
EFSA Panel on Dietetic Products N and A (NDA). Vol 7.; 2009. doi:10.2903/j.efsa.2009.1220.
Eichholzer M, Steinbrecher A, Kaaks R, Teucher B, Linseisen J, Rohrmann S. BJU Int. 2012;110(11 Pt C):E879-85. doi:10.1111/j.1464-410X.2012.11383.x
EFSA Panel on Dietetic Products N and A (NDA). EFSA J. 2009;7(9):1229-n/a. doi:10.2903/j.efsa.2009.1229
Prasad AS. Front Nutr. 2014;1. doi:10.3389/fnut.2014.00014
Kelkel M, Schumacher M, Dicato M, Diederich M. Free Radic Res. 2011;45(8):925-940. doi:10.3109/10715762.2011.564168
Lycopene. Monograph. Altern Med Rev. 2003;8(3):336-342.
Laekeman G, Vlietinck A. 2016;44(November 2015).
I. Chinou. Vol 44.; 2015.
Takashima M, Shichiri M, Hagihara Y, Yoshida Y, Niki E. Food Funct. 2012;3(11):1153-1160. doi:10.1039/c2fo30119a
Di Mascio P, Kaiser S, Sies H. Arch Biochem Biophys. 1989;274(2):532-538.
Prasad AS, Mantzoros CS, Beck FW, Hess JW, Brewer GJ. Nutrition. 1996;12(5):344-348. doi:10.1016/s0899-9007(96)80058-x
Qazi IH, Angel C, Yang H, et al. Antioxidants (Basel, Switzerland). 2019;8(8). doi:10.3390/antiox8080268
Trsinar B, Kreft S. In: ; 2019.
Kristal AR, Arnold KB, Schenk JM, et al. Am J Epidemiol. 2008;167(8):925-934. doi:10.1093/aje/kwm389
Vela-Navarrete R, Alcaraz A, Rodríguez-Antolín A, et al. BJU Int. 2018;122(6):1049-1065. doi:10.1111/bju.14362
Boyle P, Robertson C, Lowe F, Roehrborn C. BJU Int. 2004;93(6):751-756. doi:10.1111/j.1464-410X.2003.04735.x
Cai T, Cui Y, Yu S, Li Q, Zhou Z, Gao Z. Am J Mens Health. 2020;14(2):1557988320905407. doi:10.1177/1557988320905407
Abe M, Ito Y, Oyunzul L, Oki-Fujino T, Yamada S. Biol Pharm Bull. 2009;32(4):646-650.
Gravas S, Bachmann A, Descazeaud A, et al. EAU Guidel. 2014. http://uroweb.org/guideline/treatment-of-non-neurogenic-male-luts/?type=archive.
Roell D, Baniahmad A. Mol Cell Endocrinol. 2011;332(1-2):1-8. doi:10.1016/j.mce.2010.09.013
Papaioannou M, Schleich S, Roell D, et al. Invest New Drugs. 2010;28(6):729-743. doi:10.1007/s10637-009-9304-y
Paubert-Braquet M, Cave A, Hocquemiller R, et al. J Lipid Mediat Cell Signal. 1994;9(3):285-290.
Chatelain C, Autet W, Brackman F. Urology. 1999;54(3):473-478.
Barlet A, Albrecht J, Aubert A, et al. Wien Klin Wochenschr. 1990;102(22):667-673.
Onodera S, Yoshinaga M, Takenaga K, Toyoshima A, Uchiyama T. Nihon Yakurigaku Zasshi. 1991;97(5):267-276.
Habib FK, Ross M, Buck AC, Ebeling L, Lewenstein A. Br J Urol. 1990;66(4):393-397.
Chrubasik JE, Roufogalis BD, Wagner H, Chrubasik S. Phytomedicine. 2007;14(7-8):568-579. doi:10.1016/j.phymed.2007.03.014
inggi U. Environ Health Prev Med. 2008;13(2):102-108. doi:10.1007/s12199-007-0019-4
Muecke R, Klotz T, Giedl J, et al. Acta Oncol. 2009;48(3):452-456. doi:10.1080/02841860802403721
Cai Z, Zhang J, Li H. Aging Clin Exp Res. 2019;31(8):1035-1047. doi:10.1007/s40520-018-1086-7
Wessels I, Maywald M, Rink L. Nutr . 2017;9(12). doi:10.3390/nu9121286
Netter A, Hartoma R, Nahoul K. Arch Androl. 1981;7(1):69-73. doi:10.3109/01485018109009378
Zhao J, Wu Q, Hu X, et al. Sci Rep. 2016;6:25778. doi:10.1038/srep25778
Christudoss P, Selvakumar R, Fleming JJ, Gopalakrishnan G. Indian J Urol. 2011;27(1):14-18. doi:10.4103/0970-1591.78405
Sauer AK, Vela H, Vela G, Stark P, Barrera-Juarez E, Grabrucker AM. Front Oncol. 2020;10:1293. doi:10.3389/fonc.2020.01293
Pirayesh Islamian J, Mehrali H. Cell J. 2015;16(4):386-391. doi:10.22074/cellj.2015.485
* These statements have not been evaluated by the Food and Drug Administration. This product is not intended to diagnose, treat, cure or prevent any disease.
What Our Customers Are Saying
Clean Label Composition
Our labels are clean, transparent, and exceed industry requirements.
Gluten Free

No Artificial Coloring& Flavoring

Science Backed